The Platform for
High Performing Health Plans
Proactively managed health plans achieve cost savings, better benefit utilization, and improved member outcomes.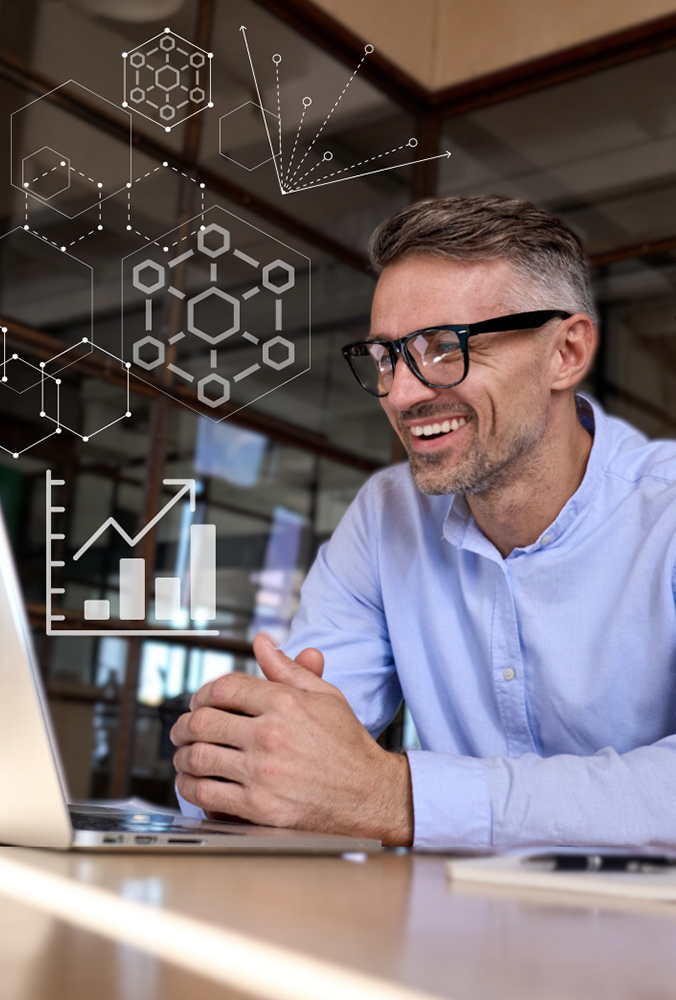 Take charge of your healthcare spending with Wellnecity
Our clients experience savings of up to 20% and are reinvesting in better benefits, reducing premiums and cost-sharing, improving the bottom line…and more.
Wellnecity empowers self-funded employers and their benefits advisors in the U.S., representing over 250,000 members.
Together, we are committed to achieving the best possible health plan performance for employers and their employees.
Vendor Accountability
Objective measurement of ROI using insights to improve the value of your benefits solutions.
Prioritized Plan Improvements
Prioritization and implementation of the most impactful solutions to optimize member outcomes.
Financial Control
Application of proven financial controls to ensure the accuracy of claims, invoices, and eligibility, so you can manage your health plan as effectively as the core business.  
Employee Engagement
Insights from your data to Increase engagement with members who need support.
"It's not about analyzing the data. It's about using the data to drive operational performance and improve outcomes."
Transportation Industry HR Leader
Armed with Wellnecity's insights, I was able to get our executive team to make decisions on annual benefits in 30-minutes that previously we found impossible to get consensus on… I'm surprised by how quickly decisions were made with intelligent insight.
1500+ Enrolled Employees
CEO Clinics/Outpatient Healthcare Services
Our CFO is fawning over the analysis Wellnecity provided. They believe we'll be able to make some mid-year changes to bend the curve… In a world of noise and vaporware, it's a delight to find a solution that delivers.
Chief Executive Officer
A 10% increase in health benefit spend makes a substantial dent in my earnings.  As a result, I need to manage my healthcare benefit costs and effectiveness just as aggressively as I manage other essential inputs to my business.
2,000 employee company
Chief Executive Officer
We have had a particularly heavy pharmacy spend for a company of 2,000 employees, and it was so helpful that Wellnecity's team and reports showed us where we could save thousands in the first 6 months.
1,000 employee company
Benefits Leader
Wellnecity's reporting has meant meetings with our CEO about healthcare are much more informed and could lay out a plan for how to save the company hundreds of thousands on plan costs alone in the first year.
5,000 employee organization
Benefits Leader
If I get a 10% increase in health benefits, who will pay?  There are only three options: either my investors pay, my employees pay, or I need to identify a way to avoid a 10% increase. It's that simple.
10,000 employee organization
Benefits Leader
I was amazed at how much power I gained once I had control of our own data. We were able to watch and challenge vendors with facts, not just generalized dissatisfaction.
2,500 employee organization
Chief Executive Officer
I've never felt more in the know about what's truly going on with our health plan costs.
1,500 employee firm
Chief Executive Officer
Our research indicates 5-7% of our healthcare cost is overpayments – errant claims, fraudulent claims, inappropriate invoicing, etc. We want our portfolio company CFOs to eliminate this wasteful spending.
Private Equity Firm
Chief Financial Officer
Wellnecity brings thoughtful recommendations – difficult to do with complex data. I appreciate having you as a partner to gain insights we wouldn't otherwise have.
Financial Services Firm
Head of Human Resources
We are so grateful for the partnership we have with Wellnecity, including the work your team does behind the scenes and the insight that is shared in each of our meetings.
Financial Services Firm
Insights
Amid ever-rising health care costs, self-insured employers of all sizes CAN reduce health care spend by up to 20%, increase the quality of care AND achieve better outcomes. Read Wellnecity Insights to explore strategies to help your health plan perform better – for you and your employees.
Client Success
Every day, Wellnecity is delivering value to self-insured employers and their employees across the U.S. With a list of clients that span industries and company sizes, you can be assured that Wellnecity will help you drive performance and accountability in the areas that matter most.