By Jake Steepleton, Rx Product Specialist
Situation
Specialty drug expenditure has been growing by leaps and bounds at 7.4% per annum due to aggressive price increases and new specialty drugs hitting the market. As of 2021, specialty drugs account for half of total prescription drug spend[1].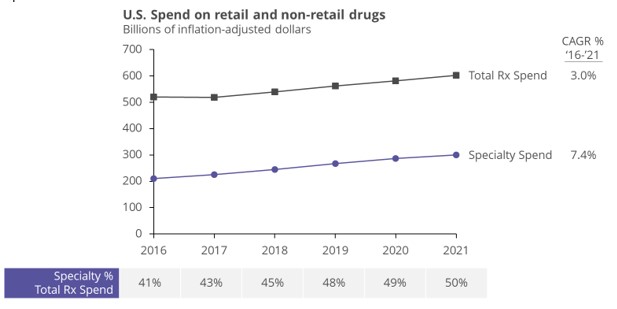 The annual cost of specialty medications for just one patient often exceed $50K with some costing over $1M. For self-insured health plans, this means it's not unusual to see 2-3% of fills driving 40-60% of total pharmacy cost for a plan. For some of the most common specialty medications such as HUMIRA® (~$80K annual cost) and STELARA® (~$160K annual cost), just a few new fills can wreak havoc on pharmacy plan spend and budgeting.
Complication
Traditional pharmacy strategies are unable to tackle the rapid change in the pharmacy benefits landscape caused by specialty medications. Why?
There are three primary reasons.
First, employers aren't always aware of and nor do they have complete information about programs available to reduce specialty medicine cost. New and existing vendors are moving fast and it's often hard for HR professionals and advisors to stay on top of the options.
Second, lags in reporting, often several months, prohibit benefit teams from reacting quickly when new patients with high-cost medications first hit the plan.
Finally, many PBM contracts actually prevent employers from implementing specialty Rx cost containment initiatives. When problematic performance is not causing alarm bells and proactive engagement, it may be time for a change in the vendor stack.
Solution
One way to "flex" against pharmacy trend is to react quickly and be flexible – by deploying targeted solutions fueled by proactive engagement and ROI tracking.
Top five strategies for managing cost and protecting patient access include:
Manufacturer copay card programs
Patient assistance programs run by drug manufacturers
Personal importation of medications, e.g., from Canada
Biosimilars (most notably the HUMIRA® biosimilars that are set to launch in 2023)
Tightening rebate language in contracts
… and given the growing problem of specialty medicine cost, you can be sure more solutions are coming!
Wellnecity Example
For one client, the alarm bells went off when we highlighted a 50% increase in Specialty Rx spend only a few months into the plan year. They wanted to take action in-year, not cause any friction in their existing PBM relationship, and avoid member impact. Working with the benefits advisor, we enabled a mid-year rollout of manufacturer copay cards to enable immediate value capture and to ensure all eligible members were enrolled in time for the new plan year. We also identified key contract improvement areas around minimum rebate guarantees and rebate pass-through opportunities to ensure the client was capturing all rebates and manufacturer fees on their specialty drug utilization. As a result, the client was able to decrease trend without additional friction for members and partners.